Une vie sans lundi #74 – Que ferait Beyoncé ?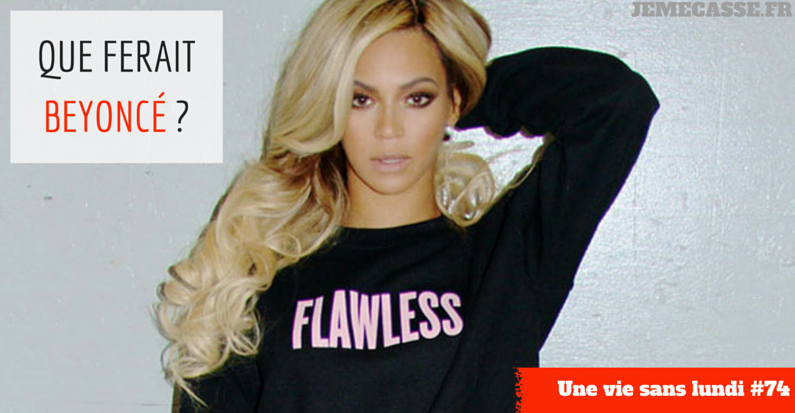 Cher-e-s ami-e-s, je vous ai manqué pas vrai ? J'aurais aimé vous dire que j'ai passé ces derniers jours allongée sur une plage au soleil… mais c'est faux 🙂 J'ai juste pris mon premier long week-end depuis très longtemps, le week-end dernier.
Et vous vous imagineriez que je reviens à vous zen et reposée.
Que nenni!! 
Cette dernière semaine, je suis passée de flemme, à frustration, à perte de motivation, à énervement total pour des raisons aussi variées que :
Depuis que j'ai fait une pause, je n'ai plus envie de rien faire, à part regarder des séries et lire des romans, dans mon lit. Mais je ne peux pas faire ça, parce que… j'ai plein à faire ! (mais ça, c'est passé, j'aime trop travailler !)
J'ai perdu le contrôle de mes cheveux, ils se comportent de manière étrange, je ne les comprends plus.
Et pour finir (et c'est parce que je vous épargne le reste), je vais sûrement devoir changer d'appartement, genre, demain, parce que celui où je suis avait en fait une tonne de problèmes bien dissimulés.
Arf.
Mais heureusement, heureusement : Beyoncé est là pour me sauver !
Des fois, dans la vie, on a des moments comme ceux que je vis aujourd'hui, où malgré toute la zenitude dont on souhaite faire preuve, on pête un peu les plombs ! Parfois on a des décisions difficiles à prendre et on ne sait pas dans quelle direction aller. Parfois on se sent juste raplapla et sans motivation. D'autres fois on doit sortir de sa zone de confort, et foncer même si on n'a qu'une envie, se cacher sous la couette. Et dans ces moments-là, je me pose une question (devenue presqu'universelle):
Que ferait Beyoncé ? Aka 'What would Beyoncé do?'
Pourquoi Beyoncé ?
1. Le « lancement »
Il y a quelques mois, je n'aimais pas trop Beyoncé. Je la trouvais snob d'avoir quitté les Destiny's Child, je n'apprécie pas particulièrement sa voix, et en plus elle a cette manie de faire tous ses concerts en maillot de bain. Je trouve ça très étrange. Mais ça c'était avant.
Le jour où j'ai vraiment commencé à apprécier et observer Beyoncé, c'était le jour du « lancement ».
13 décembre 2013.
Un seul tweet. 1.2 millions de retweets. 1 demi million d'albums vendus en 24h. Boom.
Tellement le truc est impressionnant, les américains disent « pulling a Beyoncé » (faire une Beyoncé) pour qualifier les lancements d'albums surprise. Beyoncé a créé un avant et un après dans le monde de la musique.
Personne n'avait fait ce qu'elle a fait avant. Il est probable que personne ne puisse le refaire maintenant.
Toute une expérience musicale, 14 morceaux, 17 vidéos, le tout tourné en cachette… dans un monde où la promo se fait à coups de singles et de clips minutés et calibrés pour tenir le public en haleine. Beyoncé a apporté de la surprise dans un milieu qui ne savait plus ce que c'était.
Je pourrais faire un très long article sur mon analyse de sa stratégie marketing et sur la disruption causée par ce lancement, mais il y a une chose à retenir :
Beyoncé est puissante. Elle a confiance en elle. Elle a confiance en son public. Et elle a confiance en son talent. Mais ce n'est pas tout.
2. « La machine »
En faisant mes calculs, j'ai réalisé que Bey enregistrait les morceaux de ce nouvel album et tournait ses clips, tout en étant en tournée pour son précédent album, à peine deux ans après avoir accouché. Vous imaginez l'éthique de travail nécessaire pour tenir le rythme ? Cette femme est une machine.
3. Dirty business?
Et ce n'est pas fini. Beyoncé est l'une des rares stars de son calibre qui a connu peu de scandales. Il y a sûrement une Olivia Pope qui gère cela pour elle, mais même une femme comme Alicia Keys (que j'adore), à la réputation plutôt lisse, a connu son lot de scandales en se mettant en relation avec un homme marié. Je n'ai rien contre un bon scandale, mais j'admire l'effort que cela doit representer quand on est dans une telle position de célébrité.
4. Nothing but the best
Beyoncé est un genre de reine des temps modernes et est traitée comme telle. Pour commencer à négocier avec Beyoncé, il paraît qu'il faut payer 50,000 livres (70 000 euros). Elle a fait privatiser le Louvres lors d'une de ces dernières visites à Paris Elle s'habille en sous vêtements et elle s'en fout. (Voir article 'Beyoncé n'a pas à suivre le dress code du Met Gala, parce que c'est Beyoncé')
5. Féminisme
Jaime bien son dernier album, car il est peu conventionnel, moins lisse que les précédents. Mais initialement je me suis dit 'elle ne parle que de sexe !' Mais apres réflexion, j'ai compris que Beyoncé permettait aux femmes d'assumer leur sexualité – le rapport à la sexualité étant l'un des aspects sur lesquels les hommes et les femmes ne sont carrément pas à égalité. Beyoncé place la femme dans une position de pouvoir. J'aime bien.
So…what would Beyoncé do?
Ainsi de manière subtile, sans prévenir, Beyoncé s'est infiltrée dans mes pensées.
Mes diverses sources très fiables m'ont montré que Beyoncé est : persévérante, travailleuse, sûre d'elle, féministe, athlétique, exigeante, énergique, forte, riche, puissante, célèbre, convoitée, intelligente, entrepreneure, maman, indépendante (elle a quitté les Destiny's Child, quand même), marrante, mesurée dans ses propos (non chantés), affirmée dans sa sexualité, et plutôt jolie. (Alicia Keys chante mieux qu'elle, ceci dit…)
Ainsi, grâce à cet ensemble de qualités, pour tous les problèmes de la vie, Beyoncé peut t'aider, il suffit de demander :
Exemples :
– « Aujourd'hui, j'ai la flemme, je n'ai pas envie de travailler. Je veux dormir. Et me morfondre. Laissez moââ. »
Que ferait Beyoncé ?
Beyoncé se bougerait, et se mettrait à travailler : NO MATTER WHAT. Ses fans comptent sur elle. Elle ne les laisse JAMAIS tomber. (Tu crois qu'elle a fait tout un album, 17 clips, une tournée et un bébé en se cachant sous la couette ? (ok, peut-être pour le bébé))
– « On me fait chier au boulot, j'en peux plus j'ai envie de me casser, mais je reste parce que… je sais paaaaas »
Que ferait Beyoncé ?
Beyoncé n'exige que le meilleur et prend sa carrière au sérieux. Beyoncé n'accepterait rien qui ne soit pas du plus haut standard. Elle te dirait de reconnaître ta valeur, de te mettre au travail, et d'arrêter de te faire marcher sur les pieds.
– « Je vais à une soirée, et j'ai trop envie de mettre cette robe super sexy, mais j'ai peur de ce que les gens vont dire…. »
Que ferait Beyoncé ?
Eh bien elle mettrait sa robe – put your freakum dress on! –  Ou pas de robe !  Et te dirait que c'est ton corps, et que tu fais ce que tu veux avec. Marre que les femmes ne puissent pas s'exprimer librement par leurs vêtements, merde. (ça marche pour les hommes aussi)
– « Je suis sollicitée par beaucoup de personnes – et je n'ai pas le temps de m'occuper de tout le monde, mais j'ai peur qu'ils le prennent mal si je leur dis que je n'ai pas le temps »
Que ferait Beyoncé ?
Ahem, estime-toi heureux que Beyoncé te remarque. Ensuite, son temps est ultra-précieux, et elle s'attend à ce qu'on le traite comme telle. Si Beyoncé te dit 'je veux bien te voir, mais pas avant six mois', tu le prends mal ? Nooon.
Ton temps est aussi précieux que celui de Beyoncé, traite-le comme tel.
– « Mon mec est nul / Ma meuf est une sorcière… et pourtant je reste »
Que ferait Beyoncé ? Elle secouerait la tête. Elle te ferait écouter « to the left, to the left » et te dirait que personne n'est irremplaçable. Trouve toi quelqu'un qui te mérite.
En conclusion
Bey représente pour moi l'exigence – envers soi-même et envers les autres. Elle ne se contente pas de peu. Et elle donne beaucoup parce qu'elle sait que c'est ainsi qu'elle obtient en retour.
Et il n'y a aucune raison pour que vous ne soyez pas aussi exigent-e que Beyoncé.
Vous avez le même nombre d'heures dans la journée qu'elle. Des bras, des jambes, une tête comme elle. Mettez toute votre énergie, tout votre talent à profit, et n'exigez que le meilleur pour vous-mêmes.
*J'ai été étonnée quand l'une de mes collègues m'a sorti au boulot 'what would Beyoncé do?' – j'ai réalisé que je n'avais pas inventé cette phrase… En fait, en cherchant sur Google 'What would be' –> on tombe sur 'What would Beyoncé do' !! Y compris tout un tumblr ici, et une pièce de théâtre ici (avec comme tag line, « vous avez le même nombre d'heures dans la journée que Beyoncé »), à peu près 10000 images ici et un hashtag sur Twitter, WWBD ici.
Voila, vous et moi, on en aura appris des choses.)
Que ferait Beyoncé si elle lisait cet article ?
Elle le partagerait sur Twitter à ses millions de fan (thank you Beyoncé !), elle s'inscrirait à mon mini-cours gratuit 7jours pour kiffer ici !
A vous : en quoi Beyoncé peut vous aider ?
Note : cet article a été publié en mai 2015 – autant dire que depuis, elle en a fait des choses Beyoncé !
Dont son intervention au Superbowl, la sortie de l'album 'Lemonade'. Ah.. je pourrais écrire un article sur chacun de ces événements !
1 001 commentaires