Nouvelle vision 2020, ce que je retiens de mon voyage à Los Angeles
Nouvelle vision – 2020 Hustle House, Jour 1
26 février 2020, à 7:00 – Los Angeles, Californie
Mes ancêtres sont à mes côtés et ont de la gratitude pour le travail que je fais. Je suis assise dans le bureau de la maison, en silence. 

Je n'ai pas mis de musique, car je souhaite me connecter à l'énergie de cet endroit. Rester présente. Ancrée.
Je fais une retraite avec Katrina Ruth, et 5 autres femmes formidables. Kat a loué un manoir dans Hollywood Hills, avec une vue à 270 degrés sur Los Angeles. C'est à couper le souffle. Il faut y être pour réaliser la puissance de cet endroit. En haut de la montagne, le regarde portant aussi loin que l'oeil humain puisse voir. Et d'ici je vois la mer, et les montagnes et des montagnes encore derrière. Il n'y a pas de limite à ce qui est envisageable ici.
Une vue, comme celle que j'ai imaginée de nombreuses fois dans ma visualisation. Les fenêtres du bureau forment un arc de cercle, j'ai vue sur les montagnes, les arbres et la ville. C'est plus que je n'ai osé demandé. Mais dans la vie, on reçoit tou- jours plus que prévu. Toujours.
Au moment où j'écris, nous entamons la deuxième journée pleine de ma re- traite avec Katrina. Je savais que je serais reconnectée à mon âme. Je ne savais pas que ce serait aussi rapidement.
Des questions sont en suspens, elles trouveront leur réponse aujourd'hui. C'est l'intention que j'ai posée. 

En attendant, voici ce que j'ai appris de mon séjour ici. Sans ordre particulier, gui- dée par mon âme et sa vérité.
---
Partie 1 – Ce que j'ai compris
1 – J'ai manifesté cette maison dans laquelle nous sommes.
Avec mon compagnon, nous avons posé l'intention d'attirer une maison avec 7 chambres (ni plus, ni moins), un jacuzzi, un jardin. J'ai depuis des années dit que je voulais une maison avec vue sur les arbres, et en particulier, vue sur la cime des arbres. J'ai visualisé un bureau avec des formes rondes, comme un cocon. Et quand hier, je faisais un exercice de visualisation, c'est dans ce bureau que je me suis assise. C'est la pièce de la maison qui m'appelait. L'exercice comprenait le fait de se projeter dans notre réalité future et d'écrire ces mots : I'm in this place, this is my life, this who I am (je suis à cet endroit, ceci est ma vie, voici qui je suis).
L'idée était de se projeter et de laisser descendre notre vision du futur. Or… moi j'étais déjà dans ma vision. Je suis, présentement assise dans ma vision. C'est très surréaliste. Le moment présent étant le seul qui existe. Ceci est ma réalité, je l'ai matérialisée. Le bruit de mes doigts sur le clavier m'émeut parce que cela fait longtemps que je n'ai pas écrit ainsi. Assise sur un bureau. Au calme. Avec l'espace d'écrire quelque chose de long.
Dans un point plus bas j'expliquerai en quoi cela est important.
Je suis donc, dans ma vision. Ainsi mon âme sait qu'une maison comme ça est ma réalité. Elle me montre que c'est possible. Elle me montre que c'est déjà là. Je le désire depuis longtemps. Je le résistais aussi (« est-ce vraiment nécessaire ? », je me demandais). Visiblement oui. C'est dans cet espace que mon âme choisit de faire son travail.
La manifestation de ma maison est une priorité. Mais de toute façon, la com- mande est passée. Je n'ai pas à m'en soucier. L'Univers tout entier se charge du fait que je sois dans la maison qui m'est désignée.
2 – Qui m'est désignée pour faire quoi ? Quel est le travail ?
Car c'est avec confusion que j'ai démarré ces deux jours, tiraillée dans plusieurs di- rections. J'avais en tête le thème de la sexualité. Le mettre au centre de tout, mon- trer à quel point c'est important. Mais le montrer à qui, pour quoi ? La sexualité comme outil d'abondance ? La sexualité parce qu'il est temps que les femmes se li- bèrent ? Je me suis retrouvée agacée car la sensation d'être tiraillée par le monde extérieur sur ce que je pourrais faire, ce qu'il serait bon de faire, il y a tant de possi- bilités. Mais moi, la seule possibilité qui m'intéresse c'est le travail pour lequel on m'a mis sur Terre.
Celui qui n'a rien à voir avec l'argent, ou la visibilité. Celui que je ferais peu im- porte, no matter what. Chaque jour que je respire. Parce que c'est mon âme qui le dicte et parce qu'il nourrit mon âme.
Alors assise dans mon bureau hier, j'ai demandé. Et j'ai reçu :
I'm here to create a world that is sexually safe.
Je suis là pour créer un monde sexuellement sain. Dans lequel on se sent en sécurité.
Pour quelle raison ?
Quel est le 'pourquoi' de cela ?
Les enfants.
Je le fais pour les enfants. C'est une phrase que j'avais déjà dite en visualisa-
tion il y a bientôt, 4 ans. C'était dans une projection dans le futur à 5 ans, guidée par mon amie Céline Boura. Une petite qui semblait être ma fille m'a emmenée jus- qu'à une maison (ma première question en arrivant dans la visualisation était « où est ma maison ? ». Cela fait un moment que mon âme l'attend). La petite fille m'a emmené jusqu'à ma maison, une maison au bord de la mer avec vue sur l'horizon. Là j'ai rencontré la moi du futur. Des personnes se trouvaient en bas, sur la terrasse et fêtaient. Et moi (du futur) j'étais dans mon bureau avec vue sur l'horizon. Je pré- parais un discours pour le prix que je venais de recevoir. La moi que je voyais m'a dit : « merci pour tout le travail que tu fais », et m'a prise dans ses bras.
Ensuite, je me suis de nouveau tournée vers la mer, et j'ai pris la main de ma fille. Devant la mer j'ai dit : « je le fais pour toi ». Puis j'ai senti qu'il y avait beaucoup plus de personnes. Des enfants. Et j'ai commencé à répéter : je le fais pour les en- fants. Je le fais pour les enfants.
Cela ne signifie pas que je travaillerai directement avec les enfants. Mais si je crée un monde plus sain sexuellement, c'est pour eux d'abord.
Dans le podcast que j'ai enregistré avec Céline sur la sexualité, c'est la der- nière chose que j'ai dite. Elle m'a demandé de me projeter à 10 ans plus tard, et d'exprimer mon message au monde. Je retrouverai plus tard mes mots exacts mais je lui ai dit : « maintenant que vous adultes êtes éduqués sur la sexualité, transmet- tez cette éducation à vos enfants ».
Mon âme parle fort sur les sujets des enfants et de leur sécurité.
J'ai réalisé que dans les cas d'abus sexuels, ceux qui me touchent le plus sont les incestes : un enfant agressé dans son intégrité par un membre de la famille, alors qu'il est censé être en sécurité. Le contraste est glaçant.
Dans la dernière projection dans le futur que j'ai faite, cette fois avec mon amie Marjorie Llombart (c'est bien d'avoir des personnes dans notre entourage qui nous emmènent vers le futur), je me suis visualisée en train de danser dans une grande pièce, je savais que j'avais un enfant, et la moi du futur est venue vers moi, et m'a tendu un coquillage. Elle a dit : « retourne à la mer-e ».
Je ne sais pas si c'est Mer ou Mère. Mais c'est pareil pour moi.
 

En écrivant ceci, je réalise qu'il s'agit peut-être de la mer que je regardais avec ma fille. Je pense souvent à ce moment où la première fois je dis : « je le fais pour les enfants. »
Ainsi, révélé par mon âme à force de cris depuis des années :
Ma mission sur cette terre est de la rendre plus saine, plus 'safe' sexuellement.
Et je le fais pour les enfants.
Cela ne signifie pas que je travaille avec les enfants, ou que je ne travaille qu'avec eux.
Cela signifie que peu importe ce que je fais aujourd'hui, ma question sera :
est-ce que cette action permet un monde plus sain sexuellement pour les en- fants qui viendront demain.
Je développerai sur cela plus bas.
3 – La fin de l'attachement
Ce qui est puissant avec cette vision, c'est qu'elle n'est attachée à aucun résultat ex- térieur, à part me lever chaque matin et voir ce que me dit mon âme pour faire le job.
Ce n'est pas attaché à une réussite financière.
Ce n'est pas attaché à de la notoriété.
Ce n'est pas attaché à mon ego.
Je peux tout manifester ainsi je manifeste richesse et abondance et visibilité
comme je sais si bien le faire.

C'est une simple conséquence de mes actes.
De ce que je suis capable de visualiser comme possible et de la foi que j'ai à le croire possible.
Je passe commande et je n'y pense plus. Ce n'est pas le focus. 

Mon énergie est placée à faire une chose : chaque jour, écouter l'appel de mon âme pour créer un monde plus sain sexuellement afin que les enfants qui viennent derrière nous soient en sécurité. Point.



J'ai d'ailleurs écrit dans mon journal hier : I am a star, and I don't care. It's a consequence of me. (Je suis une star et ça m'est égal. C'est une conséquence de moi).
Dans une interview, j'ai entendu Simon Sinek dire quelque chose de cet effet : avec un objectif, on a la fin en tête. On veut l'atteindre et ensuite il y a un autre ob- jectif.
Avec une vision, il n'y a pas de fin. On avance dessus chaque jour un peu plus, mais elle durera au-delà de nous mêmes. Nous aurons fait avancer les choses le temps de notre focus sur cette vision. Et de cette vision viendront les résultats fi- nanciers, etc. Mais c'est la vision qui guide.
Je prends une inspiration, et une expiration. Fais pareil.
 Je fais circuler mon énergie à l'intérieur de moi.
Je regarde la vue et je me rappelle que je suis déjà dans mon futur et que ma réalité est déjà altérée.
J'ai fait une pause. J'ai mangé un bout. C'est beaucoup. Mais Dieu sait à qui Elle donne les missions. Aucune n'est trop grande pour celui ou celle qui doit la porter.
Je me détache du résultat.

Je fais les choses non pas pour obtenir des choses (+ d'argent, + de paix, + de no- toriété), mais parce que je suis engagée à faire ce pour quoi je suis sur Terre. C'est tout. Le reste n'est que conséquence. Et les désirs de mon âme sont automatique- ment comblés à partir du moment que je crois que l'Univers tout entier oeuvre à les réaliser.
4 – Mon art
L'une des premières choses que j'ai réalisées en étant ici, en fait, est que j'étais complètement déconnectée de mon art, de ce qui nourrit mon âme, et qui me donne de l'énergie : l'écriture.
Cela fait maintenant plusieurs mois que je n'écris plus un texte tous les jours.
Parce que je voulais me 'dégager de l'espace' et créer de l'espace, et avoir des choses planifiée à l'avance, avoir un processus qui dépende moins de moi – et le résultat est que j'ai recyclé et réécrit certains articles plus que je n'en ai écrit ces derniers mois.
C'était juste, je ne me juge pas pour ça, car ma communauté grandit et elle avait aussi besoin de lire ces textes qui pour certains ont eu un impact encore plus grand que quand je les avais publiés la première fois.
En fait, je suis tombée dans un piège. J'ai rendu l'écriture, qui est en fait ce qui nourrit mon âme, comme une tâche. Comme une chose à faire. « J'écris parce qu'une newsletter doit partir tous les matins à 7h ». C'est dégueulasse et c'est hor- rible.
Une femme m'a même écrit récemment : l'engagement c'est que vous nous envoyez une newsletter à 7h c'est ça ? 

Et ça m'a fait tilter. Je ne suis pas ENGAGÉE envers elle.
Je le fais parce que j'ai envie mais… était-ce vraiment vrai ?

Était-ce vraiment vrai que j'envoyais un mail à 7h parce que j'ai envie, ou était-ce parce que… c'était une bonne idée, et mes lecteurs adorent, et en plus je peux vendre demain ?
J'ai attaché mon écriture à un résultat. A plusieurs.
Et j'ai oublié la chose fondamentale.

J'écris parce que cela nourrit mon âme. Parce que cela me met en joie. Parce que cela me donne de l'énergie pour faire tout le reste. C'est tout.
Et ces derniers temps, j'ai écrit moins car on essayait de mettre en place des systèmes, et gérer l'équipe, etc. Je voulais 'automatiser', avoir moins de charge mentale à l'idée d'écrire tous les jours et que quelque chose puisse être envoyé. Mais c'était hautement ridicule.
Parce que c'est l'écriture qui me je nourrit.

C'est comme si je disais : je vais mettre des systèmes en place pour ne pas avoir à manger chaque jour, comme ça ça me dégage du temps pour… autre chose ?
J'écris parce que j'en ai envie. Parce que j'en ai besoin. Parce que sans ça je meurs.
Bien sûr, j'écrivais dans mon carnet. Mais ce n'est pas pareil. Dans mon carnet je n'écris pas mon MESSAGE pour le monde. J'écris ce qui vient.
Or en tant que messager, j'ai fait mon travail à moitié. 
 Et c'est ce qui fondamentalement va changer.
J'écrirai tous les jours un nouveau message car cela me nourrit. Je ne sais pas ce qu'il y aura dedans, je laisserai mon âme me dire. Je ne planifierai plus de mes- sages à l'avance.
Si un jour je ne peux pas écrire et que je veux absolument envoyer quelque chose, je laisserai mon âme choisir.
Cela tue notre 'système' d'automatisation et de programmation qui était censé me laisser du temps. On était parti sur : c'est programmé sur X jours, et si jamais tu te sens d'écrire, on remplace un des textes par ce que tu as écrit.
Comme si écrire était optionnel. 
 Comme si respirer était optionnel.
NON. J'écris tous les jours. C'est ça le défaut. Pas l'inverse.

Je ne vois pas l'intérêt d'avoir du temps et de l'espace si ce n'est pas pour écrire le message que je dois dire au monde tous les jours.
C'était une claque quand j'ai réalisé ça. J'ai eu l'impression de m'être oubliée, travestie pendant des mois, d'avoir été à côté de ce pour quoi je suis là. Mais en- core une fois, tout est parfait et cela devait être comme ça pendant ce temps là. 
Cela ne sera simplement plus jamais comme ça.
5 – Le message est le message et mes offres sont un message aussi.
Ce que je vends, la façon dont je le vends, la page de vente que j'écris, le contenu de ce que je propose, ce sont des messages. Mon âme décide ce qui est gratuit ou payant en fonction de ce qu'elle estime nécessaire, pour un bon équilibre énergé- tique j'imagine, mais j'en sais rien. C'est elle qui décide et c'est aussi simple que ça.
Parfois les gens doivent payer pour comprendre et intégrer des choses et aller plus loin.
Et je dois certainement être payée pour être soutenue dans ma mission.
 Il n'y a rien de très compliqué à ça. Tout est l'extension de la mission.
Maintenant on passe aux questions que je me pose et à mes premiers élé- ments de réponse.
---
Partie 2 – Éléments de réponse à mes premières questions.
6 – Comment on rend le monde plus sain sexuellement et par quel biais ?
C'est la question numéro 1 que je me pose.
Comment je fais descendre la vision d'âme dans la matière ?
La première piste : transmettre mon message tous les jours, de façon payante
et gratuite.
La deuxième chose qui m'est venue : par tous les moyens nécessaires, de la
façon la plus large possible.
Ensuite, plusieurs personnes à qui j'adresse mon message :
⁃ Les enfants (mais ça ne sonne pas juste en moi que je leur parle maintenant. Je leur parlerai plus tard).
Ce que je vois surtout, c'est que pour créer un monde sain et apaisé sexuellement pour les enfants, il est important d'avoir un monde où les ADULTES se sentent sains et apaisés par rapport à la sexualité de façon à ne pas :
⁃ Transmettre leurs ombres aux enfants de leur entourage en héritage ;
⁃ Ne pas contribuer davantage à une société aujourd'hui dangereuse sexuelle- ment.
Ainsi, je parle : 
⁃ Aux parents ;
⁃ Aux personnes qui ont des enfants dans leurs vies ;
⁃ Aux adultes qui ont à coeur de travailler leur sexualité pour eux et pour l'im- pact que cela a sur le collectif ;
⁃ Aux créateurs, entrepreneurs, influenceurs, changeurs de monde qui eux portent un message afin qu'ils intègrent celui de la sexualité saine et apaisée de- dans – quitte à transmettre ce message de façon à ce qu'ils y voient l'intérêt pour leur communauté (ex : aux entrepreneurs, le lien entre sexualité et prospérité est un bon moyen d'introduire le sujet. Mais ATTENTION, que cela ne détourne pas de la mission).
Ici, je pense en particulier aux personnes qui ont des communautés et qui ont de l'influence et de l'impact.
⁃ Les hommes et femmes entrepreneurs qui souhaitent porter leur message sur la sexualité et qui ressentent de la résistance.
⁃ Aux dirigeants et chefs d'entreprise – afin de faire descendre l'importance de la sexualité dans la culture même de l'entreprise. Ils ont une grande influence sur leurs employés. Et autant le yoga est entré dans la culture, autant une sexualité saine peut y entrer aussi.
Et également :
⁃ A la population globale, par le biais de ce que j'appelle la 'pop culture', la culture populaire : films, livres pour ma part. Et également la promotion d'autres initiatives permettant que le message d'une sexualité plus saine descende dans les mentalités.
A quelle échelle ?
⁃ Pendant longtemps, j'ai travaillé à l'échelle de la France. J'accepte aujourd'hui qu'il y a une seule Lyvia, je suis la seule à pouvoir mener à bien cette mission spécifiquement comme elle m'a été envoyée. Ainsi, avec toute l'aide néces- saire, je compte toucher le maximum de personnes, en France et à l'International. A suivre.
J'ai ainsi de nombreuses pistes de réponses à cette question, mais la chose fondamentale sera de déterminer le focus des prochains temps.
(Petite pause respiration, phew).
7 – Les conséquences sur mon business
C'est la question numéro 2 que je me pose.
Ce que je sens (et qui me crée son lot de peurs et de résistance, mais bon),
c'est le besoin de focus.

La tâche est grande. Il y a beaucoup à faire. Et je ne peux pas être distraite.
Ainsi, l'idée pour moi est d'arrêter tout ce qui ne répond pas à la mission.
 Mon filtre sera : est-ce que, directement ou indirectement, ceci permet que je créer un monde plus sain et apaisé, dans lesquels les futurs enfants seront en sécu- rité ?
Si la réponse est non alors je ne le fais pas.
 Si la réponse est oui, alors je le considère.
Notamment, j'ai de nombreuses offres pour lesquelles la réponse est non à cette question.
Je vais prendre une décision quant à ce que cela signifiera pour leur avenir.
Dans tout les cas, l'important sera vraiment d'écouter ce que mon âme a à me dire à chaque instant :
Quand je n'ai pas de réponse, je ne fais rien, plutôt que de faire quelque chose qui ne soit pas aligné… peu importe la raison.
Ne rien faire tant que je n'ai pas le message et l'offre qui sont alignés avec mon âme. Rien.
8 – La maison (re)
Full circle, on revient à cette histoire de maison.
Je lève les yeux et je regarde la vue panoramique.
Mon âme sait que c'est le futur.
Mon ego dit : mais ce n'est pas nécessaire, tu peux te contenter de moins.
Hier, en session avec Katrina elle m'a dit :
« Je suis curieuse de savoir qu'est-ce qui fait que tu ne t'autorises pas ça ? » Puis : « Ce n'est pas à toi de juger ce dont ton âme a besoin pour travailler.
On utilise bien un ordinateur pour travailler, un crayon pour écrire. Toi tu as be-
soin d'une grande maison. Qui es-tu pour juger ça ? ».
Et elle m'a aussi dit et j'ai éclaté de rire : YOU NEED THE BIG HOUSE TO HELP THE CHILDREN! REMEMBER THE CHILDREN! Et c'était tellement choquant de lier le fait de vouloir une maison à multi-millions et d'aider les futurs enfants de la planète que bon. C'était drôle. 

Et c'était vrai.
Ce n'est rien ça. C'est de la simple manifestation.
Kat m'a dit : get over your own ridiculousness, it's normal, it's whatever to have a
house like this. Stop being a drama queen about it. It's not dramatic. It's not a big deal. Period, the end. (Lâche ton propre ridicule, c'est normal, c'est rien d'avoir une maison comme ça. Arrête d'être une drama queen à propos de ça. C'est pas dra- matique, c'est pas grand chose. Point à la ligne).
J'avais écrit dans une newsletter que pour certains une grande maison c'était un appel d'ego, et que pour moi c'est un appel d'âme.
Avec le travail que je fais sur ma propre enfance, je comprends à quel point c'est le cas. J'associe la maison à la sécurité (parce que je ne me sentais pas toujours en sécurité dans la mienne en grandissant), et j'associe l'espace au fait que chacun peut être libre d'évoluer (parce que j'associe la solitude avec le cocon, la sécurité, et l'espace à la respiration). C'est important pour moi d'avoir assez d'es- pace parce que j'étouffe quand je me sens étriquée. J'aime l'idée qu'il y ait de la place pour chaque personne, et pour chaque activité. Pas moins. Et pas forcément plus (#minimalisme). C'est fou comme parfois on juge nos propres désirs, alors qu'ils peuvent venir de quelque chose de très vrai.
Bref, en tout cas, je manifeste ma maison.
Première conclusion
J'ai dit beaucoup dans ce texte, et c'est ma façon à moi d'intégrer ce qui se passe.
 Dans quelques minutes (il est maintenant 8:29) Katrina nous donne une séance de sport (c'est une star du fitness, je ne veux pas passer à côté) et ce sera parfait pour m'ancrer.
Je vais envoyer ce textes à toutes les personnes qui participent à ma mission, en y associant un message spécifique sur comment au mieux soutenir cette mis- sion globale.
J'inspire, je respire. Merci de m'avoir lue 🙂 A tout à l'heure pour la suite.
---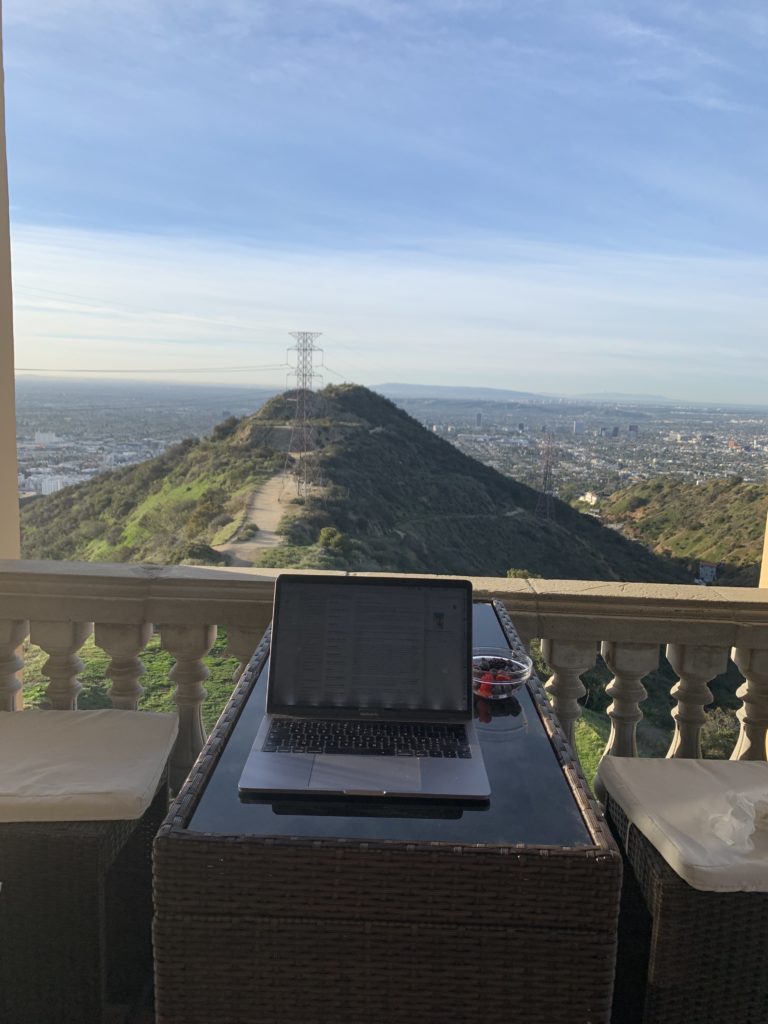 Hustle House – Jour 2
Ce qui va se passer concrètement.
26 février 2020 – Los Angeles, Californie – 15:48
Ce matin en écrivant, j'avais la sensation d'avoir des questions en suspens. Mais
pas du tout. Tout est clair.
L'une des choses que nous avons vu avec Kat était le fait que… il n'y a pas de
pièce manquante magique pour avoir la clarté. La clarté vient de l'action.
Ainsi les prochaines actions étaient déjà présentes et évidentes. Un pas à la fois.
Je sais exactement ce que je vais faire :
1 – Ce texte sera envoyé à mon équipe, et ensuite, à mes lecteurs.

2 – Je reprends l'engagement d'écrire tous les jours. J'enlève l'engagement d'en- voyer à une certaine heure. Car cet engagement est pour moi, pas pour les autres.
3 – J'ai de la clarté sur ma prochaine offre qui répond à ma vision. Voir le 'mes- sage pour les lecteurs' en bas pour en savoir plus.
4 – J'ai de la clarté sur ce que je compte faire de toutes mes offres qui ne sont pas ça. Qui portent notamment sur la manifestation, le fait de s'aligner, de trouver sa voie.
J'incarne ça. J'incarne le fait de vivre une vie que l'on désire. Le fait de révéler à la matérialité ce que mon âme veut est une pratique quotidienne et je suis bonne à ça. Mais ce n'est pas mon métier de l'enseigner. C'est un outil nécessaire pour accomplir ma vision. C'est à cette vision que je vais appliquer ma manifestation.
Ainsi, je n'enseignerai plus formellement sur le sujet, mais rien de ce que j'ai créé ne sera perdu. Je travaillerai sur ce point avec mon équipe, et je partagerai quand le moment sera juste.
Une chose qui est devenue encore plus claire pour moi c'est que c'est facile d'être un pas à côté de ce vers quoi on est appelé. C'est facile d'être un pas à côté quand on sait beaucoup de choses, qu'on a appris beaucoup de choses, et que ce sont des choses dont les gens ont besoin, et pour lesquelles on nous solli- cite.
Sur quelques années, j'ai enseigné… comment se reconvertir et trouver une idée d'activité qui nous ressemble, comment créer un business et le développer, comment avoir un bon rapport à l'argent, comment attirer l'amour, comment mani- fester ce que l'on désire. Dans tout ce que j'ai fait, j'ai créé peu d'offres qui corres- pondaient à cette idée de créer un monde plus sain sexuellement. Ceci dit j'ai écrit sur la sexualité, et j'en ai parlé, et je l'ai inséré dans des programmes comme étant un outil pour autre chose. Jusqu'à hier matin, c'est ce que je voulais réussir à inté- grer dans ma vie et mon business. Mais aujourd'hui il est clair qu'on est sur encore autre chose.
L'autre chose est que, le seul job que j'ai à faire est de me connecter tous les matins, d'écrire le message qui me vient pour ce jour, et laisser le reste se dérouler.
Le plus important sera d'utiliser chaque moment comme mon âme sent que je dois utiliser chaque moment. Il n'y a pas de plan prédéfini de comment les choses vont se dérouler.
Les actions citées plus haut sont celles que j'ai pour aujourd'hui. Et pour la suite, on verra peu à peu. Le tapis se déroulera sous mes pieds au fur et à me- sure que j'avance.



En tout cas, le message est clair.

J'ai reçu : je suis là pour créer un monde sexuellement plus sain. Et je le fais pour les enfants. 

Il y a mille façons de faire cela, et tout ce que je ferai c'est écouter la guidance. Et je ne ferai plus ce qui n'est pas ça.

Un jour à la fois, nous verrons ce que ça donne.
Je garde la vision. Je maintiens la foi qui y est liée. Je mobilise l'énergie néces-
saire. Et je vois.
La vision pour ma maison.
La vision pour mon activité et sa mission.

Note sur mon objectif financier :
Pendant un moment j'ai voulu mettre de côté mon objectif financier de l'année (2,3 millions) car je ne savais pas si c'était mon âme ou mon ego qui voulait ça, ni pour- quoi.

Mais étant donné que le chiffre m'est venu divinement, je choisis de garder la vi- sion pour lui, sans pour autant lier mes actions au fait que je doive l'atteindre.
La commande est passée. Je maintiens la foi que c'est prévu, que c'est fait.
Ça c'est d'un côté.
Et de l'autre côté, je fais juste ce que j'ai à faire chaque jour.
Il n'y a pas de lien entre les deux. D'un coté je passe une commande Amazon à
l'Univers. De l'autre je fais mon job. C'est comme si j'avais commandé Uber Eats et qu'en attendant de recevoir ma commande je bossais sur l'ordi.
La commande est passée. C'est prévu. C'est fait.
FIN
Voilà, j'ai dit tout ce que j'avais à dire sur cela.
J'aimerais ajouter une remarque pour les personnes qui me lisent ceci dit : ce que je dis peut sembler clair aujourd'hui. Genre : oh mon dieu elle sait exactement pourquoi elle est sur Terre.
J'aimerais que vous ne vous laissiez pas leurrer par ça.

Ce n'est pas nécessaire de savoir pourquoi on est sur Terre pour écouter son âme chaque jour et faire ce qu'on a à faire.
Je n'ai pas 'découvert' quelque chose aujourd'hui. J'ai comme relié des points du passé, avec des indices disséminés depuis des années. Et j'ai connecté ça avec ce que je ressens pour le futur. Et cela m'a donné de la clarté. 

Mais la clarté, c'est éphémère.
Dans quelques jours, j'aurai oublié que j'ai écrit tout cela.
Ce qui va faire que j'avance dans la bonne direction, ce n'est pas mettre une pancarte devant moi et dire : Lyvia, tu as dit que tu faisais ça et rien d'autre.
NON. Cela va être me connecter chaque jour à ma Source et faire ce qu'elle me dit.

C'est CELA que vous devez retenir de ceci. Car avoir une mission ou une vision est optionnel pour faire ce qu'on a à faire. La preuve, toutes ces années je l'ai fait ce travail, j'ai permis de plusieurs façons que le monde soit plus sain sexuellement. Je ne le faisais simplement pas en conscience et je n'y mettais pas toute mon énergie.
Tout travail nécessaire à écouter ce que vous dit votre âme et vous rappeller qui vous êtes est le travail qui est nécessaire.
Fin écrite le 27 février 2020, à 08:13, cette fois sur la terrasse avec vue sur une pointe qui montre la direction de… tout droit.
Message pour les lecteurs
Cher lecteur, merci d'avoir lu jusqu'ici.
Plusieurs choses vont se passer :
⁃ J'enlève mon engagement d'envoyer un email à 7h tous les matins pour les
raisons que j'ai dites plus haut. Je compte me reconnecter à mon message pour moi, et le partager quand il vient, ce qui est à peu près tous les jours si je m'y prends bien. Ceci dit, je choisis de faire passer le côté 'art' de mon travail avant le côté engagement, et business. J'écris parce que j'écris. Et je partage. Et c'est tout. Je sais que certains d'entre vous seront dévastés de ne pas être assurés de m'avoir pour leur café, mais… pour l'instant on va se laisser porter.
⁃ La plupart de mon contenu et de mes offres portera donc sur le fait de créer un monde avec un sexualité plus saine et apaisée. Cela peut prendre de nom- breuses formes. J'autorise la vision à se dérouler peu à peu devant moi.
⁃ Je ne lancerai donc plus d'offres sur la manifestation, l'attraction, l'argent, voire même les relations (sauf en lien avec la sexualité). Ces offres ne disparaitront pas ceci dit, avec l'équipe nous travaillerons à un moyen de les rendre accessibles différemment.
⁃ Une nouvelle offre me vient. Elle sera partagée avec vous quand ce sera le moment.
C'était un long message.
Le réalignement est en place. 

Je me sens clean, comme après une grande détox.
 Ça fait du bien 🙂
Questions, remarques ? Dites-nous dans les commentaires !
941 909 commentaires