Une vie sans lundi #6 – 12 conseils pour rester créatif
J'ai commencé  à apprendre (ou réapprendre) à dessiner cette semaine.
Je ne croyais pas que c'était possible, jusqu'à ce que j'entende parler de ce livre qui promettait de m'apprendre à dessiner en 30 jours.
Je me suis lancée. Et même si je ne fais que des sphères bizarres pour l'instant (photo plus bas), c'est bien mieux que ce que j'imaginais.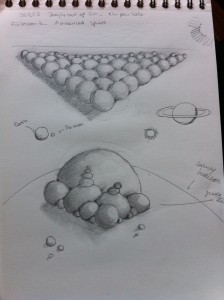 Pourtant, quand j'étais plus jeune, je dessinais tout le temps. Mais un jour, je me suis dit que c'était nul, et stupide, et que ça ne menait à rien de toutes façons. Alors j'ai laissé tomber.
Enfants, on dessinait, on créait des mondes de légo, on inventait des histoires de monstres avec nos figurines et nos poupées, on se créait des missions secrètes et des chasses au trésor. Aujourd'hui, ça semble si loin de nous. Et c'est dommage!
Avec l'âge adulte ont débarqué la rationalité, mais surtout l'auto-censure! Eh oui, on se dit que si ce n'est pas assez bien, cela ne vaut pas la peine. On laisse la création aux artistes, et on continue avec les choses sérieuses.
L'adulte créatif est l'enfant qui a survécu – Ursulla LeGuin
Comment retrouver cette créativité perdue?
1. Retrouver confiance et croire qu'être créatif, c'est possible
La créativité n'est pas un truc d'artiste ou de gens exceptionnels. Chacun d'entre nous est un artiste, que l'on soit comptable ou plombier.
Trouver une solution innovante à un problème, c'est être créatif. The Artist's Way, de Julia Cameron est un excellent livre pour débloquer cette créativité, peu importe le métier que l'on fait. Je travaille avec en ce moment, jetez-y un œil – Ici la version en français.
2. Oublier l'ordi: A vous papier, crayon et stylo

.
90% d'entre nous passent au moins huit heures par jour sur l'ordi. Vrai ou faux? Je n'ai pas de statistique précise, mais je pense m'approcher du vrai.
Le meilleur moyen de retrouver sa créativité est de déconnecter. Éloigner l'ordi, éteindre le téléphone, et se donner 30 minutes avec une feuille et un crayon. Pour faire des gribouillis ou écrire des mots au hasard. D'ailleurs, c'est devenu un art!
3. Prendre l'air et marcher
Vous me prendrez pour une folle, mais j'écris souvent en marchant. Pendant une longue marche, plein d'idées me viennent. Et je les note sur mon téléphone.
La marche, c'est stimulant sans être fatiguant – on est plus actif qu'en restant dans son bureau ou assis sur le canapé – et en même temps, on est peu distrait.  Quand je travaillais à temps plein (ooh, ça fait du bien de dire ça au passé), j'allais et je revenais du boulot à pied. Sinon je me baladais pendant ma pause dej. 15 minutes suffisent.
4. Ecouter les conversations des autres
Oooooh, c'est mal! Mais j'adore écouter les conversations des autres dans les cafés. C'est fascinant d'entendre des morceaux de la vie des gens. On se crée des histoires entières avec ces bribes de phrases. Essayez, c'est marrant.
5. S'entourer de gens créatifs
Rien de mieux pour stimuler sa créativité que de fréquenter des créatifs – artistes, musiciens, mais également professeurs ou publicitaires. Pour les rencontrer, vous pouvez joindre un site tel que Meetup.
"You are the average of the five people you spend the most time with, including yourself" – Jim Rohn
Vous êtes la moyenne des cinq personnes avec qui vous passez le plus de temps, y compris vous-même – Jim Rohn
6. Aller à des conférences ou à des expos
Paris est la ville de la culture. Conférences sur divers sujets (art, entrepreneuriat, etc.) et expos en tout genre, vous donneront des idées précieuses et uniques. N'hésitez pas à discuter avec les présentateurs, où ceux qui dirigent l'expo pour en apprendre plus. Une recherche sur Timeout vous donnera la liste des événements du moment.
7. Terminer quelque chose
Entreprendre un projet et arriver au bout est un excellent moyen de reprendre confiance et de se prouver à soi-même qu'on est capable de créer: que ce soit construire un meuble, peindre un tableau, écrire une lettre ou cuisiner un dîner pour deux.
Mais FINIR veut dire:
Ne pas rechercher la perfection : La perfection est l'ennemi de l'artiste. Vouloir que ce soit parfait fait souvent qu'on n'arrive pas au bout. Il faut se donner droit à l'erreur
En faire un peu chaque jour: et de ce fait, entretenir cette créativité
Ne pas laisser tomber: au moindre obstacle, plutôt qu'abandonner, se dire que c'est le moment de se prouver à soi qu'on peut le faire.
Par exemple, ce mois-ci, j'écris un roman.
8. Lire
Roman, essais, auto-biographies. Il n'y a rien de mieux qu'un bon vieux livre pour créer l'étincelle d'une nouvelle idée. C'est aussi un excellent moyen de se vider l'esprit.
9. Sortir de sa zone de confort
Ah, la zone de confort, quelle est confortable. Mais vous le savez, c'est en dehors que les choses géniales arrivent.
Cassez la routine. Aujourd'hui, faites quelque chose que vous avez toujours redouté de faire – aller au restau seul? Parler à des étrangers? Tout un monde s'ouvrira à vous.
10. Danser dans son salon et chanter sous la douche
Vous connaissez l'expression « dance like nobody is watching »? C'est exactement ce qu'il faut faire.
Encore une fois, vous me prendrez pour une folle (et j'assume), mais parfois, quand mon cerveau bloque, je me mets un petit son qui bouge bien et je remue mon popotin!
Et quand je suis de vraiment bonne humeur, j'attrape le balai et je me mets à chanter aussi. Essayez, ça marche vraiment bien! Cette vidéo pourra vous inspirer.
11. Avoir un carnet avec soi tout le temps (ou au moins un smartphone) pour prendre des notes
Toutes les idées qui vous viendront en suivant les 10 étapes ci-dessous, NO-TEZ-LES. Très très important pour aider la créativité à rester fluide. Une idée peut vous venir à tout moment, il ne faut pas la laisser s'échapper.
12. Suivre Jemecasse.fr sur Pinterest
La règle ultime. J'ai créé un tableau o
ù j'épingle des images, citations, histoires trouvées sur le net.  Je le met à jour régulièrement. Abonnez-vous pour retrouver l'inspiration.
Et vous, quelles sont vos astuces pour rester créatif?
Quelques ressources: Pour apprendre à dessiner en trente jours et Pour libérer l'artiste qui sommeille en vous, en anglais, et en français.
(Pssst: En achetant les livres mentionnés via les liens dans l'article, je reçois une petite commission, et vous ne payez rien de plus!)
941 909 commentaires