Une vie sans lundi #99 – 99 secrets sur jemecasse.fr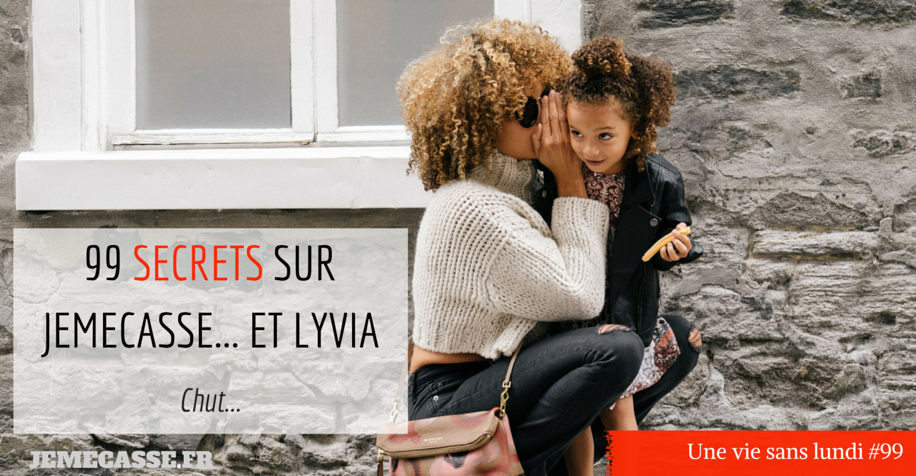 Hiiii, je suis super excitée à l'idée d'écrire cet article ! Tellement que je danse sur ma chaise 🙂 (en public, dans un Starbucks!) 99 Vie sans lundi ! WOW. 99 – quatre-ving-dix-neuf lundi où j'ai partagé avec vous ce que signifiait pour moi vivre une vie sans lundi, sans blues du dimanche soir, en faisant chaque jour ce que j'ai choisi.
Ce n'était pas un long fleuve tranquille, comme vous le savez, et quand j'ai écrit ma première Vie sans lundi, sur le sujet de sortir de sa zone de confort – je n'aurais pas cru que j'aurais tenu aussi longtemps. Je n'aurais pas cru qu'il m'en « suffirait » de 99 pour être à fond sur mon business, devenir blogueuse, écrivain et philosophe à plein temps. Wow, quelle aventure de ouf de la mort qui tue !!
Ce n'est pas encore l'heure du bilan – et il y en aura un promis – et aujourd'hui, je veux vous écrire un article super spécial !
Dans cet article, je vais vous donner 99 secrets de jemecasse.fr ! Cette idée m'est venue grâce à Elise, qui, quand j'ai demandé ce que vous aimeriez voir abordé, m'a dit qu'elle aimerait en savoir plus sur les coulisses de jemecasse ! Tu seras servie aussi.
Et ce n'est pas tout. J'ai demandé aux membres du groupe Facebook 'Je me casse' de me poser leurs questions les plus brûlantes, afin de révéler les secrets auxquels je n'aurais pas pensé moi-même 🙂
En ce lundi d'hiver, je t'invite à t'installer confortablement pour lire le meilleur truc que tu liras cette semaine.
Prêts ? Moi oui ! – Craquements de doigts – C'est parti !
99 Secrets sur moi et jemecasse
1 – J'ai la même plante verte depuis 11 ans. Elle a un nom, Lola
2 – Je n'aime pas du tout les événements de networking
3 –  Ça me fait peur de rencontrer de nouvelles personnes qui ne me connaissent pas d'abord (elles me font peur). C'est pour ça qu'un site c'est bien : « Ah c'est toi jemecasse.fr » « Oui, oui ! »
4 – Ma série préférée de tous les temps c'est Sex and the City
5 – Ma série préférée en ce moment, c'est Rosewood. Elle me remonte le moral à chaque fois !
6 – Je suis accro aux séries
7 – Ma chanteuse préférée n'est pas Beyoncé.
8 – Je peux rester chez moi 3 jours d'affilée sans mettre le nez dehors
9 – J'ai peur des éclairs et des baleines.
***
10 – A chaque lancement jemecasse, je me dis que les gens qui se sont inscrits étaient fous au moment d'acheter, que c'était un accident et que ça ne se reproduira plus jamais
11 – Le mois prochain je me produis au théâtre. Je flippe ma race. J'ai surtout peur que personne ne vienne (venez !)
12 – J'ai peur à peu près une fois par semaine.
13 – J'ai très peur à peu près deux fois par semaine.
14 – En fait je suis peureuse de chez peureuse. J'ai peur des montagnes russes aussi (en plus des éclairs et des baleines).
15 – J'ai du mettre cette liste dans une feuille Excel pour garder le compte.
16 – Ma mère ne comprend pas tout ce que je fais mais elle me kiffe et je l'aime.
17 – Mon frère m'a dit un jour « des fois faut être sympa, mais des fois faut pas être trop sympa » j'ai peur pour son âme.
18 – Je suis fière de ma sœur même si elle doute souvent d'elle.
19 – Au moins une fois par mois je me demande ce que je fous dans mon business. Et après ça va mieux. Je me remets souvent en question.
***
20 – Je suis quelqu'un de très angoissé. Je fais très bien semblant d'être calme.
21 – Je ne suis pas susceptible.
22 – Je suis maladroite.
23 – On peut me considérer comme froide car je pense que chacun doit se débrouiller pour régler ses problèmes. Mais je peux aider une fois que la personne a décidé de se débrouiller.
24 – Écrire mon blog est une très bonne excuse pour ne pas écrire mes livres.
25 – Cette année, JMC a fait près de 50 000 euros de chiffres d'affaire. C'est ma première année de business.
26 – La plupart de cet argent est parti en loyer londonien, en loyer français et en charges sociales. I know.
27 – Mon rêve c'est que mon message soit partout mais que moi je sois cachée (hein Celine)
28 – Chaque année il me faut 6 mois pour m'habituer à mon nouvel âge.
29 – Vous parler de vous casser est un gros prétexte. Les quittages de boulot ça me barbe. Moi ce que je veux vous montrer c'est que vous avez la responsabilité et la possibilité de créer la vie que vous voulez.
***
30 – Je suis noire mais honnêtement c'est la chose à laquelle je pense le moins souvent dans ma vie. (Évidemment, j'ai envie de dire). Vous me verrez rarement débattre sur le sujet.
31 – Quand je me sens mal, j'écris, je danse ou je crie.
32 – Les gens les plus proches de moi diraient que je suis : maladroite, bordélique, intelligente mais qu'il faut m'expliquer longtemps (j'aime la précision), psychorigide mais jamais par rapport au monde physique (voir plus haut), intense, bavarde, déconnectée du monde réel.
33 – Je dirais que je suis : tout ça mais très connectée au monde réel.
34 – Je ne regarde pas les News
35 – Cela m'a pris du temps d'assumer que les News ne m'intéressent pas. Je pensais que ça faisait de moi quelqu'un de pas 'brillant'.
36 – Les News ne m'intéressent pas.
37 – Je travaille seule, mais depuis peu j'ai une assistante. Elle devient peu à peu mon cerveau gauche.
38 – Je n'aime pas faire de vidéos.
39 – Je n'aime pas trop regarder les vidéos parce que je suis control freak et que je préfère absorber l'info à mon rythme.
***
40 – J'aime être le centre de l'attention, mais seulement quand je l'ai décidé.
41 – J'aime l'argent, et je veux une vie très confortable
42 – Avec cet argent, j'aimerais aussi offrir plein de cadeaux à mes clients – ceux qui sont assez fous pour me faire confiance 🙂
43 – Ma journée type/idéale JMC c'est : lever à 7:45 – petit déjeuner, lecture, travail, footing, déjeuner, regardage de série, rendez vous avec quelqu'un, diner, série.
44 – J'y arrive 30% du temps.
45 – En général c'est gâché par le lever à 9:45
46 – J'écris toujours mes articles le jour même mais j'essaie de changer
47 – Ce que je préfère faire dans mon métier c'est écrire, créer de nouvelles choses, et animer ma communauté de lecteurs.
48 – En 2016, je vais déléguer une grande partie de ce que je n'aime pas, pour faire surtout ça.
49 – Ce que j'aime le moins dans mon métier, c'est répondre aux mails. Ma boite mail m'angoisse.
***
50 – En fait, je suis nulle en réseaux sociaux. Je poste sur Facebook ce qui me passe par la tête, sur Twitter aussi. Mais j'ai maintenant une appli qui va m'aider.
51 – Ah oui, je suis Geek accro aux applications. j'utilise une bonne quinzaine d'applis pour mon business. Je les ai testées chacune et leur alternative pendant 2 jours. J'ai dû tout passer à mon assistante, la pauvre
52 – J'écris deux livres en ce moment – peut être trois. C'est l'une des choses les plus difficiles à faire pour moi, même si j'ai déjà écrit l'équivalent de plusieurs livres sur ce blog.
53 – Pour l'écriture de mes livres : j'écris quand ça vient. Au moment où je vous écris, ça ne vient pas trop, mais j'ai confiance que ça se débloquera.
54 – J'ai très peur de publier mon roman sous mon vrai nom car il ne ressemble pas à l'image qu'on sait de moi.
55 – C'est un roman érotique.
56 – J'ai très peur que mon livre philosophique ne plaise pas car soit les gens sauront déjà ce qui est dedans, soit ils ne seront pas prêts à l'entendre.
57 – Je rêve d'être célèbre pour mon écriture et mon message. Mais pas comme Beyoncé, de manière plus discrète, comme quelqu'un dont on se fiche de la vie au jour le jour.
58 – Cette liste est super longue. Je regrette un peu d'avoir choisi ça comme idée
59 – Quand j'ai une nouvelle idée, soit je commence à l'exécuter de suite, soit je laisse tomber. Si elle revient, tant mieux.
***
60 – Je crois en Dieu.
61 – Je ne crois pas en la religion.
62 – Quand j'ai grandi, on ne m'a jamais dit que quoi que ce soit était impossible. Je trouve très triste qu'on dise ça à d'autres êtres humains. Si tu dis ça, arrête s'il te plaît.
63 – J'ai du mal avec les personnes intolérantes et fermées d'esprit. Cela m'énerve vraiment mais c'est pas leur faute.
64 – Je ne mens presque jamais.
65 – J'aime les commérages.
66 – C'est super dur de pas parler davantage de mon chéri sur le site !
67 – Ma plus grande angoisse, c'est de ne pas être assez bien, et qu'on ne m'aime pas. Écrire ce que je pense me permet de dépasser ça. Il y a plein de gens qui m'aiment quand même 🙂
68 – En même temps, J'ai peur qu'un jour on me fasse des menaces de mort par rapport à ce que j'écris (début de la gloire ?)
69 – Parfois je me demande ce que serait ma vie si je ne m'étais pas cassée et ça me fait vraiment, vraiment flipper.
***
70 – Parfois c'est difficile de me rappeler que des personnes n'en sont pas au même stade que moi, et croient que c'est ok de rester dans un boulot où ça ne va que moyennement. Ensuite je me rappelle que j'étais comme ça et que mon travail, c'est de les aider.
71 – Je suis snob, surtout niveaux bouquins. Je n'aime pas les livres mal écrits.
72 – MAIS Tout le monde sait que je lis beaucoup. Peu de personnes savent que je lis surtout des romans à l'eau de rose qui se passent au 16ème siècle dans le nord de l'Ecosse, avec des chevaliers et tout. Même pas honte.
73 – Je suis très exigente dans mon travail, mais beaucoup de gens croient que je fais les choses au hasard. C'est vrai en partie, il y a une grande part de créativité magique dans ma façon de fonctionner, mais ce n'est jamais du hasard.
74 – Je déteste planifier. Pourtant tout ce que je décide de faire est fait.
75 – Cette année mon business a décollé plus vite que je n'étais prête à le suivre. J'ai dû me faire accompagner pour gérer cette croissance rapide.
76 – Dans ma vie idéale, je veux passer moins de temps sur mon business, plus de temps à écrire, lire et rêver.
77 – Je me casse n'est pas ma passion. Mais participer à changer les mentalités, en France en particulier, me passionne et me stimule.
78 – Je fais ce que je fais parce que j'ai peur de mourir et d'avoir été inutile.
79 – Je me sens coupable très rapidement et c'est le sentiment que j'aime le moins.
***
80 – Je pleure facilement.
81 – J'aime les comédies romantiques, je n'aime pas les films d'horreur.
82 – J'aime le luxe et le confort, et je l'ai admis il y a seulement quelques semaines!
83 – Jamais de la vie je fais un tour du monde en sac à dos !
84 – Le secret de mon business : j'ai 100% confiance que d'une manière ou d'une autre, ça va aller.
85 – Mon plus gros poste de dépenses dans mon business, après mon salaire, sont des formations.
86 – Je rêve de rencontrer Alicia Keys, mais j'ai peur de savoir ce que je lui dirais, alors je me répète des phrases intelligentes à lui dire, au cas où je la croiserais dans le métro
87 – Tout ce que je dis sur ce site, je le pense à 100% – même si ça peut sonner bizarre ou faux, ou dit « juste comme ça ». Pui, je crois que tout est possible. Oui j'ai confiance dans le fait que chacun de mes lecteurs peut avoir une vie qui déchire et qu'il/elle est sur la bonne voie.
88 – En deux ans d'écriture et plus de 200 articles, j'ai beaucoup évolué. Et ça arrive parfois que les personnes qui me lisent depuis le début arrivent à savoir des choses sur moi que je n'ai pas vraiment envie qu'elles sachent 🙂 Mais c'est le risque que je prends.
89 – Cette année, je me suis faite accompagnée dans mon business par Marianne Cantwell et Céline Boura.
***
90 – J'ai été interviewée à la télé 3 fois, à chaque fois dans un cadre scolaire ou pro – une fois à 13 ans, une fois à 17 ans, une fois à 23 ans, juste avant de ma casser. Aucune de ces apparitions n'a a voir avec je me casse, et l'une des chaines est nationale (hum hum France 2)
91 – J'ai eu 20 en maths et 20 en physique au bac, et quand je suis arrivée en prépa, j'ai réalisé que c'était pareil pour tout le monde. Pfff. C'est la première fois que je dis ça en public, by the way.
92 – Ma stratégie de business est de faire ce dont j'ai envie. C'est une stratégie difficile à défendre au quotidien, mais une fois que les gens voient que ça marche, ils m'embêtent moins.
93 – J'ai créé chacun de mes programmes (ici et ici) sur un coup de tête, une inspiration subite. C'est ainsi que je sais qu'ils sont justes.
94 – Quand je travaille, j'accepte que si je n'ai pas envie de faire quelque chose, soit ce n'est pas le moment, soit je ne le fais pas du tout. Du coup je repousse, en me disant que ce qui doit être fait sera fait. Ça marche.
95 – Elise me demandait comment je m'organise pour mes mails et Facebook – pour mes mails, mon assistante gère depuis peu. Avant c'était le souk. Pour Facebook, j'utilise Buffer pour programmer, et depuis peu Edgar pour recycler d'anciens posts. Comme dit plus haut, tout ce qui consiste à planifier et organiser n'est pas mon fort.
96 – Même si je n'aime pas planifier, je le fais un peu car ça me rassure. Surtout je me projète visuellement. Mon carnet est un carnet de dessin, et j'ai vraiment besoin de visualiser les choses en images pour me projeter.
97 – Si vous en êtes arrivé là, je vous en remercie. Honnêtement, bravo de lire mes articles super longs.
98 – C'est difficile de faire ce que je fais, car je n'ai aucun repère. Personne ne fait ça. Je prévois d'écrire un article dessus.
99 – Je serai comblée si mon site vous permet d'avoir une vie que vous kiffez, et qui déchire. On a besoin de vous.
Bravo, mais ce n'est pas fini ! Découvrir les secrets de JMC, ça se mérite, par la lecture ! Découvrez mes réponses aux questions brûlantes de mes lecteurs – l'assurance que je ne révèle pas seulement les secrets qui m'arrangent !
Réponses à vos questions brûlantes !
Merci à vous tous qui avez joué le jeu et avez participé. Cet article ne serait pas le même sans la participation de notre superbe communauté !

[toggle title= »Ma réponse »]J'ai vécu 3 ans à Londres de 2010 à 2013. C'est là où j'ai trouvé mon premier boulot. C'est une ville qui m'avait toujours attirée – je me suis cassée de mon boulot à Londres pour venir à Paris. Je suis repartie un peu plus d'un an plus tard 🙂 C'est ma ville préférée, j'y ai de très bons amis, mais j'ai bien galéré à trouver un appartement ![/toggle]

[toggle title= »Ma réponse »]C'est grâce à mon chéri que j'ai réussi à me casser. On a vécu ensemble un an et il couvrait beaucoup de nos frais. Cette année était difficile surtout pour moi (pas l'habitude d'être dépendante), mais il m'a beaucoup soutenu. Ma famille et mes amis me soutiennent énormément aussi, même si tout le monde ne comprend pas. Je n'ai pas l'impression d'avoir fait des sacrifices, c'était des choix et j'avais confiance dans le fait que ça allait payer. Le compromis était au début – accepter de vivre avec peu le temps que les choses se lancent, mais aujourd'hui il y a zéro compromis [/toggle]




[toggle title= »Ma réponse »] J'ai lancé le blog en juillet 2013 – jusqu'à novembre 2014 je ne savais pas que je voulais en vivre. Une fois que j'avais pris cette décision, Il m'a fallu environ 5 mois pour lancer mon premier produit qui a marché. Je suis passée à 100% en juillet 2015, donc je dirais environ 9 mois entre la décision et la vie à 100% [/toggle]
[toggle title= »Ma réponse »]Réponse – Finalement, je travaille la plupart de la journée, et je finis par m'adapter à mon entourage. Ainsi je sors surtout le soir et le week-end comme la plupart des personnes 🙂 J'ai quelques amis libres en semaine, mais c'est rare. Ainsi je passe ma semaine à travailler, mais il arrive que je bosse le soir et un peu le week-end. Je m'organise en fonction de ce que j'ai envie de faire, ce n'est pas vraiment contraignant. [/toggle]
[toggle title= »Ma réponse »]
Ahhh – j'ai ma routine idéale – voir plus haut – mais disons qu'honnêtement, ça donne ça : Lundi, je vérifie les réseaux sociaux, j'écris mon article du lundi, je lance ma newsletter. En fonction de mon degré de procrastination, ça peut être fait avant 11 h ou à 18h – Mardi et mercredi, je passe du temps à planifier, visualiser, gribouiller sur des carnets, voir des gens. Un mardi sur deux, j'ai webinaire le soir pour mon programme. L'autre mardi, je leur envoie un ebook que je relis dans le détail à chaque fois. – Tous les jours, je vérifie les groupes Facebook et Google + où échangent mes clients. Le mercredi, c'est souvent le jour des trucs non planifiés – modifier le site, inventer des nouveaux trucs sur papier – le jeudi, j'ai l'article du jeudi + souvent d'autres rdv – en général, le mardi et le vendredi sont des journées sans rdv pro – le vendredi, c'est la fête, je fais ce que j'ai envie. Dans ma semaine je case : l'écriture de mes deux bouquins, les points avec mon assistante, la planification de mes lancements etc. Les moments de lancement sont très intenses – ceux qui précèdent et ceux qui suivent aussi. Je ne m'ennuie absolument jamais. Ah oui, bien sûr, je regarde un ou deux épisodes de série par jour.
Au moment où j'écris, je travaille sur la planification du lancement de mon programme en janvier, la planification de mon année 2016, et le plan de communication pour mon apparition au théâtre
Dans ma journée : le matin, j'écris toujours quelques pages sans réfléchir, si je ne fais pas ça, je passe une sale journée. Je lis tous les jours. Si je ne fais pas ça, je passe une sale journée.
Tu peux lire cet article aussi.
[/toggle]
[toggle title= »Ma réponse »]Hum, pas sur ma légitimité en soi-même, mais plus « est-ce que je sais assez ». Honnêtement, il y a un moment où je ne savais pas assez, puis il y a eu un moment où j'ai su assez, par mon expérience et ce que j'ai appris en chemin. Je n'ai pas de formation de coach, mais je suis formée à plein d'autres choses : la finance, le marketing, et ma plus grande formation, c'est les livres, en particulier les romans qui m'ont, je pense, donné un bon aperçu de la psychologie humaine. Ce qui m'a poussé à me lancer quand même c'est l'idée de responsabilité : Je peux aider. Ce serait hypocrite et de la fausse modestie que de dire le contraire. Je peux aider alors j'aide, dans la mesure de mes possibilités et connaissances. Et c'est ce que je demande à mes lecteurs de faire aussi. Si je ne sais pas, j'admets que je ne sais pas et je me tourne vers quelqu'un d'autre.
[/toggle]
[toggle title= »Ma réponse »] Je laisse le génie créatif faire son travail. Si j'ai vraiment envie de faire quelque chose, je ne me demande pas si c'est réaliste ou pas, je pars du principe que ça l'est, et je le fais. Parfois cela demande plus de moyens, de temps, que j'ai envie de mettre, alors je trouve une solution plus simple. C'est normal de douter, je doute constamment. Mais du moment que tu fais ce que tu veux tu ne peux pas vraiment te tromper…  [/toggle]

[toggle title= »Ma réponse »] Héhé, je sais que tu as lu cet article. Je me vois vivre dans un lieu entouré de nature, et passer une grande partie de mes journées à écrire des romans et des essais. Ma vie sera remplie d'expériences très riches – voyages, art, spectacles – et de gens fabuleux. Honnêtement, je n'en suis pas bien loin. [/toggle]

[toggle title= »Ma réponse »] Je n'en ai pas. Pour un business comme le mien, c'est impossible de se projeter sans inventer des chiffres. Je peux décider de changer ce que je fais du tout au tout, et au contraire, un business plan m'aurai bridé je pense. Aujourd'hui je peux décider de lancer ou d'arrêter un programme sur un coup de tête, et ça peut marcher, ou pas… J'ai tout un avis sur les business plan, ça peut faire un article entier ! [/toggle]
[toggle title= »Ma réponse »] Je ne vais pas te mentir Sabrina, j'ai flippé. Et au tout début, quand je ne savais pas trop vers quoi je me dirigeais, j'ai pensé à retourner à mon ancien boulot, mais rien que l'idée me donnait mal au ventre. Je pense qu'il y a eu un moment où j'ai décidé – peut-être inconsciemment – que j'allais me lancer dans cette aventure à fond, avec confiance. Quand je doutais-doute, je me rappelle pourquoi je fais ça, quel genre de vie je veux, et je me dis que je suis sur la bonne voie.  [/toggle]

[toggle title= »Ma réponse »]
Bonnes questions. J'ai hésité à créer ma boite en Angleterre, mais vivant en France, j'aurais payé mes impôts sur le revenu et les charges sociales en France, donc ça ne changeait rien niveaux sous. Je n'ai pas transféré mon entreprise en Angleterre, je n'y suis pas restée assez longtemps. Je ne crois pas nécessaire de déplacer ta boite si tu déménages, elle peut avoir son siège social en France et toi tu vis ailleurs. Ceci dit tes impôts sur le revenu sont en général payés dans ton pays de résidence.
Pour ce qui est du statut juridique, je me suis cassée la tête un mois à décider puis j'ai abandonné. J'ai décidé de passer d'auto-entrepreneur à entrepreneur individuel pour l'instant. L'EURL est mon choix suivant, la SASU le dernier. Les trois statuts sont juste une coquille, du moins formel ou plus formel. J'ai fait de nombreux calculs et financièrement ça ne change rien. [/toggle]

[toggle title= »Ma réponse »]
Excellent ! Alors je ne dis jamais aux gens de se casser ou pas, sinon c'est la fin des haricots. !Chacun doit prendre la décision qui lui convient. Par contre je leur demande d'être honnête avec eux mêmes et de savoir POURQUOi ils restent, et pourquoi ils partent. Il y a de bonnes raisons de le faire à chaque fois.
Je ne me dis jamais non plus qu'un projet est farfelu, au contraire. Ni qu'il n'est pas ancré dans la réalité. Une partie de mon travail est justement de montrer que le projet, aussi fou qu'il soit peut être réalisé en pratique et que c'est possible si on le veut vraiment. Et parfois, quand le projet est vraiment ouf, on n'a pas vraiment l'envie de le mettre en oeuvre s'il nous demande de faire passer certains de nos envies / besoins en dernier (par ex, pour partir sur la Lune, il faut beaucoup de sous aujourd'hui – as-tu envie de faire ce qu'il faut pour obtenir des sous pour faire ça ? peut-être que oui, peut-être que non) [/toggle]
A Vous – Vous avez des questions ! Si oui, c'est le moment. Je suis de bonne humeur 🙂
Au moment d'avoir fini cet article, bien plus tard que quand je l'ai commencé, je suis émue.
Je t'aime, lecteur.
883 commentaires